Saladmaster cookware is the only set you will ever need !


It has a life time warranty, uses the highest grade of metal 316Ti in the cookware industry, and is manufactured in an environmentally friendly facility in America.
It maximizes nutrition without leaching chemicals into the food and does not require the use of oils or water to cook foods.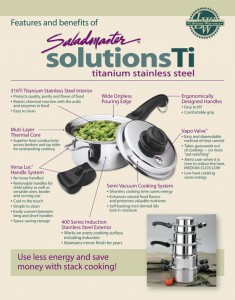 To Contribute by check:
Make  your check payable to The Conscious Cook and Send to:
The Conscious Cook
10225 Barnes Canyon Rd. A110
San Diego, CA 92121
Include Name of Registry and Your Name as the Contributor
To pay with a credit card:
Please Contact Sadie King at 858-204-7148 or sadieking@conscious-cook.com