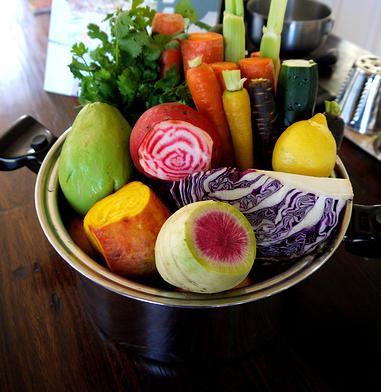 Our classes are currently held only at your location of choice.
Watch our video here!
Join one of our delicious educational cooking classes, and be part of the fun. Each one of our classes is filled with organic whole food ingredients and nutritional knowledge about a specific topic. In these classes you will be given helpful tips in the kitchen along with addressing the nutritional value and benefit of the foods being prepared. After eating the food prepared, you will always leave each class feeling great from delicious food and valuable information.
Read the description of each class listed for allergy info.  We are very aware and sensitive to those with various restrictions. Some classes are vegetarian and vegan friendly (will be noted in the description), most classes are wheat-free, gluten-free, soy free and dairy-free and some even nut-free (again read the description and menu listed). There are no refined sugars, oils or flours of any kind. Everything is non-GMO, pure, and natural with an emphasis on local and organic whenever possible!
Our goal in these classes is to teach you how to prepare Healthy, Delicious, Gourmet Style meals with less time and less effort.
All classes are different and offer diverse cuisine and styles of cooking.
You will Learn a better version of multi-culture healthy cuisine from America, Thai, Italy, Spanish, Indian and other Cultures.
You will learn easy, fast, delicious recipes made to fit today's health standards.
You will Learn how to make scrumptious desserts using non dairy and non flour alternatives (Gluten Free).
You will Learn to master making the best soup recipes ever using simple, healthy, delicious ingredients.
You will Learn how to make unique salads and salad dressings made in minutes.
You will learn how to make superfood smoothies and energy drinks that pack the most nutrition in one shake.
All our classes keep dietary restrictions and allergies in mind, so there will be plenty of options for our vegan/vegetarian and gluten free friends.
Some classes include meat options, some are vegan/plant-based; check the schedule for details on specific classes.
All our classes are designed to Save you Time, Save more Money and Improve your Health and Happiness through Knowledge!
Most of our classes are demonstration style, unless specifically noted "hands on" or class size allows for hand on.  You will have an opportunity to sample and savor all the foods prepared by our chefs, so bring your appetite!
These are some of the topics we have had: Eating for Balance-Ayurveda, Detox and Cleanse, Vegetarian Delights, Eating with the Seasons, How to Grow your own Organic Garden, Kids Cooking, Girls Scouts Group, Nutrition for Athletes, Paleo, Vegan Basics, Healthy Indian, Italian, Asian, and Mexican, Cooking with Tea, Gourmet Quickies, and MORE!  Some of the recipes we have used can be seen in the Recipes section. 
"Let thy food be they medicine, and thy medicine be thy food."  -Hippocrates.