Our FREE in-home, healthy cooking shows are fun, delicious, and educational!
We guarantee that you will learn our secrets to:
Double the Nutrition in Your Food
Cook Meals in Half the Time
Preserve More Flavors
Make Cooking FUN AGAIN
Learn all about this and more. 
Contact us about hosting your own FREE healthy cooking show in the comfort of your home.  We service all of San Diego County (and surrounding).
MORE INFO:
We believe that good health starts in the kitchen with the right food choices and proper food preparation.  Enjoy the night out of the kitchen with our in home healthy cooking class for you and your family. No need to invite any guests, we will cook for you and your spouse. We will prepare a whole, delicious meal, conduct a cookware test, and share healthy recipes and nutritional information.​ This meal is at no cost to you as a part of our promotion. There are no gimmicks or catches.  It will be an entertaining, educational evening about healthy cooking, cookware, nutrition, and prevention of diet related diseases.
WE WILL:
Prepare a complete healthy and nutritional meal LIVE for you and your family
Bring all the food and equipment
Clean up after ourselves
Leave you a brochure
YOUR ONLY REQUIREMENTS:
Relax and enjoy a delicious meal
Provide a clean kitchen, plates, and utensils
Enjoy an informational demonstration
Question:   Why would you give away a meal? What's the catch?
Answer:    Our Dinner Program is for advertising purposes.  We are confident that once you taste our food, you'll want to come to our cooking classes, consider some of our products or at least share the good word about our healthy cooking message with your friends.
Question:   Do we have to buy anything?
Answer:    Absolutely not.  Our Cooks receive credit just by doing your dinner!    If you are interested in our healthy method of cooking, we can leave you a brochure on the product we will be sharing.
Question:   MAY I invite another couple to my dinner?
Answer:    We will cook for just you and your family.  If you like, you may invite a maximum of (1) other health conscious couple.
Question:    How long is the show?
Answer:   2-2 ½ hours: Cooking, Cleaning and…Desert included!
Question:    What is on the menu?
Answer:   Golden chicken* with no skin or oil, mashed potatoes, vegetable medley, fresh garden salad and our world famous health cake. A deliciously balanced, low fat, high fiber, nutrition packed meal.  *Vegan, Gluten Free & Kosher menus available upon request.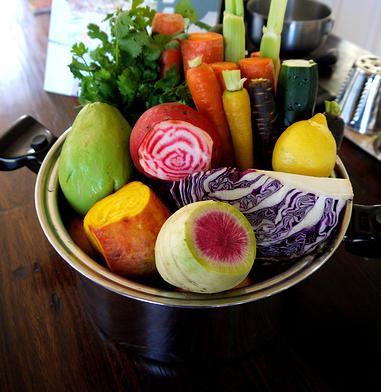 Sound like FUN?  What Days Don't You Like to Cook?
Dinner Gift Program
How can you receive these items at no charge? Get details at your dinner!