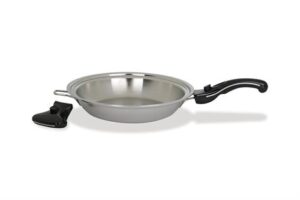 10 in. (25.4 cm) Chef's Gourmet Stainless Steel Skillet
When life gets busy, it can be challenging to maintain a healthy lifestyle. Saladmaster empowers you to craft delicious and balanced meals when you need them most. Our sustainable, easy-to-use cooking solutions have transformed culinary artists' lives for over 75 years. These skillets are a true delight for the culinary artist. The sloped sides on the 10 in. (25.4 cm) skillet is ideal for sautéing mushrooms, flipping omelets, creating crêpes, frying fish, and even stir-frying.
What to Cook With a 10 Inch Stainless Steel Skillet
Whether you're making breakfast, lunch or dinner, our cookware will accommodate your needs and preferences. A 316Ti stainless steel skillet is ideal for recipes like:
Saladmaster offers accessible and interactive ways to cook more, including virtual cooking shows, blog posts, recipe tips and even in-person cooking classes.
Our 10-Inch Stainless Steel Skillet's Features
We make it easy to create meals you'll feel good about. You'll benefit from our 10-inch skillet's numerous features:
Protects your food's flavor and nutrients: We construct our cookware using 316Ti stainless steel, a non-reactive material that preserves your recipe's natural flavor, vitamins and nutrients.
Enhances your cooking experience: A heat-conducting thermal core yields optimal temperatures and even heating every time. Food prep is faster, cleaner and easier than ever, thanks to a dripless pouring edge.
Compatible with your preferred cooking surface: Cook the way you want with a 316Ti stainless steel skillet. It pairs well with any cooktop, including gas, electric and ceramic styles.
Made in America: Saladmaster's dedication to excellence shines through with our meticulous manufacturing process, American craftsmanship and Limited Lifetime Warranty.
Unfortunately (and fortunately!), you cannot just buy Saladmaster off any shelf or online. That is because it needs to be demonstrated to be appreciated. It is a specialized cooking system, designed and engineered with your health in mind.  Learn more through a short, customized complimentary virtual cooking show. It includes a cookware toxicity test that you do with your pans, to see if they pass the test! There is absolutely no obligation when you agree to your virtual cooking show.