Saladmaster Virtual Cooking Show
Thank you for your interest in hosting one of our Virtual Cooking Shows.
Our mission at Saladmaster is to inspire others to eat better, live better and achieve the life they desire; Hello, I'm Sadie and I'm excited to cook for you!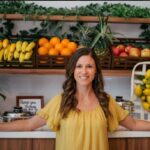 To make the most of your Virtual Cooking Show experience, you will want to have the following items available:
1 Medium to Large Size Carrot

Grater, a Small Plate and a Clear Glass
Baking Soda 
Your Current Cookware Pieces (any cookware that works on stovetops; if you have multiple, please pull out all of the different types).
Internet Access as the Virtual Cooking Show is conducted via ZOOM (your Cooking Coach will provide you with a unique access code and password prior to your scheduled demonstration).
What to Expect
Our Virtual Cooking Show is a fun and interactive way for us to connect with people and share our healthier methods of food preparation. You will enjoy a LIVE Cooking Presentation by a trained Saladmaster Cooking Coach, right from the comfort of your home at a scheduled time that works best for you!
Our Cooking Coaches will show you a flavorful nutrition-packed meal and will give you valuable information on how to cook healthy and retain nutrients in your food. All you need to do is have fun and participate virtually!

"One of our friends referred us, and we were so impressed that we recommended a bunch of people as a thank you. The company sent us an Ultimate Food Processor. We have had it now for several months,and use it almost every day.  If you haven't experienced the show, we are certain you will love the information and the food. When you also get one of the food processors without any purchase required… that's like icing on the cake!" ~ Laarnie Ponce

"We were a bit skeptical at first but once our Cooking Coach finished the cooking show, we were blown away. The food was prepared so quickly! They showed us how to prepare, cook and even serve up a healthy dessert, all within 90 minutes or so. Highly recommended!"  ~ Joey Villanueva

"By profession, I am a Nutritional Counselor and I was really impressed with HOW our Cooking Coach showed how to prepare our meal at ultra low temperatures which preserves most of the nutrients. We were also excited that the food tasted amazing with NO added salt or fats. This is something I now recommend to my clients and incorporate as a complimentary business." ~ Andrea Kiesel, The Wellness Advantage, Inc.

"I felt I had a strong knowledge of the Culinary Arts after becoming a a Cordon Bleu graduate, having worked in luxury hotels and restaurants for years. After seeing the Cooking Show, I picked up some tips on how to cook foods faster, easier, healthier and ultimately, more flavorful! If you aren't experienced in the kitchen, you will find the show entertaining and if you think you really know how to cook, I think you will be pleasantly surprised and learn a few things. This has made an impact on my life creating healthy and delicious foods for my family and others!" ~ Sonja Andersen, Culinary Chef 
After you experience the Virtual Cooking Show, you can earn one of our Saladmaster Hosting Items at no charge! Simply recommend your friends and family to also enjoy a similar Virtual Cooking Show experience, and you can have the opportunity to earn the Food Processor as a referral reward.   
The Ultimate Hostess Gift