Mushroom Slider with BBQ Sauce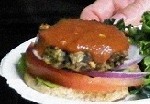 3 tbsp coconut oil
1 1/2 lb mushrooms (shitake, portabello, and/or cremini), roughly chopped
1/2 cup finely chopped onion
6 cloves garlic, minced
2/3 cup rolled oats
1/3 cup shredded Parmesan
3/4 cups breadcrumbs
2 large eggs, beaten
1 tsp ground fennel seed
1 tsp oregano
1/2 tsp salt
1/4 tsp black pepper
*Heat 1 tbsp oil in large saucepan. Saute the mushrooms, onions and garlic over medium heat for about 5-10 minutes, or until brown.
*In large bowl, add mushroom mixture to oats, parmesan, breadcrumbs, eggs, oregano, fennel, salt and pepper. Mix well and let stand for 15 minutes to develop the flavors.
*Shape into small patties for sliders or larger patties for burgers. Heat 2 tbsp oil in large skillet, over medium heat. Fry patties, cooking about 5 minutes on each side, or until golden brown.
FOR THE BBQ SAUCE:
1 cup stewed whole plum tomatoes, reserve liquid.
½ cup tomato paste
2 cloves garlic
1 teaspoon Dijon
2 teaspoons red miso
1/2 cup brown rice syrup
3 teaspoons apple cider vinegar
1 tablespoon Chinese Five Spice Powder
2 tablespoon kuzu (with 2 cups remaining tomato liquid and/ or water)
** (add 2 teaspoons sriracha hot sauce for extra heat)
*In a blender, puree tomatoes, tomato paste, garlic, brown rice syrup, Dijon, miso, vinegar and spices.
*Add blended mix to a small sauce pot and heat on medium-low for about 5 minutes, or when small bubbles start.
*In a small bowl, combine kuzu with 1/4 c of tomato liquid and create a slurry.
*Add remaining liquid and pour mix slowly into the heated tomato puree. Continue to heat on med-low heat, stirring to prevent lumping. Simmer about 5 minutes and add salt and pepper to taste.