White Ginger Pear Poached Tilapia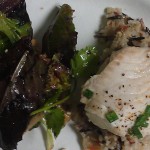 2 cups boiling water
2 White Ginger Pear tea
1 green onion, coarsely chopped, 2-4 thin slices fresh ginger (about 2 inches each),
1 1/4 pounds fillets of tilapia or cod or flounder
How to:
1. In 2-cup glass measuring cup, pour water over White Ginger Pear tea and brew 5 minutes. Remove infusers; set aside.
2. In a 12-inch skillet, bring tea, green onion and ginger to a boil over high heat. Add fillets. Reduce heat to low and simmer covered 6 minutes or until fish flakes with a fork. Remove fillets to serving platter and sprinkle, if desired, with chopped green onion.
PREP Time 10 minutes. Makes 4 servings