Vegan Dahl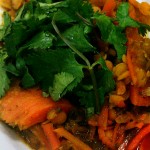 Serves 4
Extra virgin olive oil spray
1 teaspoon cumin seeds
1 teaspoon black mustard seeds
1 teaspoon turmeric
½ cup carrot, grated
2 mushrooms, finely grated
1 onion, finely grated
4 cups vegetable stock
1/2 cup dried split red lentils
1 tablespoon curry powder
1/2 cup fresh or dried coriander
sea salt and pepper to taste
Lightly spray a little oil into a non-stick saucepan. Add cumin and mustard seeds and heat until the mustard seeds begin to pop.
Add the grated carrot, mushroom and onion, and sauté while stirring for 10 minutes. Add the vegetable stock and the lentils. Add curry powder, salt and pepper to taste.
Simmer until the lentils cook together into a thick mush. Add the coriander just before serving, but save a little for garnishing.