Salmon Burgers with Cilantro & Roasted Pecan Pesto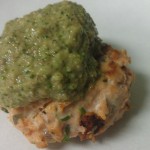 Salmon Burgers
Serves 4
1 1/2 pounds skinless, boneless salmon
2 teaspoons Dijon mustard
2 shallots, peeled and cut into chunks
1/2 cup panko bread crumbs
1 tablespoon chopped parsley
1 tablespoon chopped capers
1 teaspoon sea salt
1 teaspoon paprika
1. Cut the salmon into large chunks, and put about ½ of it into the container of a food processor, along with the mustard until the mixture becomes well processed into a mashed consistency.
2. Add the shallots and the remaining salmon, and pulse the machine on and off until the fish is chopped and well combined with the puree.
3. Scrape the mixture into a bowl, and by hand, stir in the bread crumbs, capers, parsley, salt and paprika.  Shape into four burgers. (You can cover and refrigerate the burgers for a few hours at this point.)
4. Heat 1tablespoon coconut oil in a medium skillet on medium-high heat. Sear the burgers for 2 to 3 minutes on each side, turning once. Alternatively, you can grill them: let them firm up on the first side, grilling about 4 minutes, before turning over and finishing for just another minute or two.
Cilantro & Roasted Pecan Pesto
Serves 4
1/3 cup pecans, chopped, roasted
2 1/2 cups lightly packed cilantro
2 tablespoons mellow miso
1/4 cup low sodium chicken stock or low-sodium vegetable stock
1 tablespoon sherry vinegar
1/4 cup extra-virgin olive oil
Salt and freshly ground pepper
Blend all ingredients in food processor and serve with salmon burgers.