Fuyu Persimmon and Pomegranate Mixed Greens with Candied-Spiced Pecans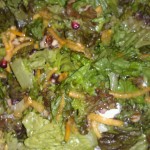 Makes 8 servings
1 pomegranate
2 small or 1 large Fuyu persimmon
1/2cup pecan or walnut pieces
1/4 cup maple syrup
1/2-1 tsp cayenne
Pinch sea salt
1/2 pound mixed baby salad greens
About 1 tablespoon extra-virgin olive oil or nut oil
1 lemon
3 ounces or about ¼ cup crumbled goat cheese
—
Preheat oven to 375°F
To candy the pecans, toss in maple, cayenne, and sea salt and roast in oven at 375°F for 10 minutes or until toasted. Remove from heat and let stand about 10 minutes until cooled. Set aside.
To remove the pomegranate kernels, make a cut near the blossom end of the fruit, submerge the pomegranate in a bowl of water, and break the fruit into large pieces. Use your fingers to loosen all the kernels, then drain and reserve them.
Core the persimmon and cut into thin slices. In large salad bowl, add persimmon, candied nuts, greens, and as many pomegranate kernels as you like. Grate the zest from the lemon strands into the bowl. Drizzle with oil and squeeze lemon juice. Add goat cheese crumbles just before serving.